Social media is now a top destination for instant updates on everything from friends to politics to sports. As more businesses are taking advantage of the opportunity to promote there, an outdated social media strategy has become a competitive disadvantage. To keep up with the times, review these tips to refresh your social media marketing.
How to Improve Your Social Media Strategy
Today, most businesses have some sort of social media presence. But it is just as likely that your business is not making the most of the medium.
You may be having difficulty building a large community of supporters. Or, you may not be seeing the interaction you would like or would expect. Or, it's likely your business may not be seeing a worthwhile return on its investment.
Whatever it is, these are not reasons to abandon social media marketing. It's just means that the game has changed as competition has grown considerably.
Understand Your Goals
Social media marketing can easily fail if it lacks focus. Before worrying about graphics, figure out what you want your social media presence to do for your business. Some businesses may want to build a community of engaged supporters, while another may be looking to increase conversions. Goals often differ depending on the size of your business, its industry or other factors.
Set Measurable Objectives
In order to update your social media strategy, you'll need to review your objectives. Inbound marketing agencies use the S.M.A.R.T. formula. Social media marketing that is specific, measurable, attainable, relevant and timely has a greater likelihood of success.
Examine the Competition
Sizing up your competition is a great way for you to learn from their social media successes and failures. Study how each of your competitors presents themselves on each of the main social channels. Take a look to see whether their accounts are funny or serious or something in the middle. Next, see if your competitors have very active social accounts with lots of "likes" and comments. Also, examine what kind of balance your competitors strike in promoting their products.
Create Buyer Personas
Any kind of marketing, including social media, is easier if you know who you are marketing to. Creating buyer personas (semi-fictional representations of your ideal customers) is an inbound marketing tactic for understanding your target audience. You can use buyer personas to flesh out the age, gender, occupation, income level and more of your ideal customers.
Then, you can tailor your social media content in a way that best reaches your buyer personas.
Create a Content Plan
While reevaluating your social strategy, create or update your content marketing plan. Mapping out a content in a calendar is highly recommended. This will allow you to vary your content with posts of different type and topic.
Since content contributes to engagement on social media, your business will need blogs, videos and graphics to keep posts fresh and interesting for your audience.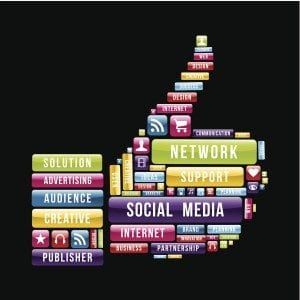 As you reevaluate your social strategy, another avenue to explore is whether your business is using the right social networks it needs to succeed. While many businesses focus on Facebook, organizations can find results by thinking outside the box.
Social media advertising has become more important because of increased competition. With small investments, businesses can see their social presence quickly grow by leaps and bounds. Businesses, though, benefit from boosting interactions rather than accumulating page "likes."
In 2016, brands' use of video in social media is expected to rise significantly. Short videos on networks like Instagram and Twitter have become increasingly popular. With video marketing, businesses are now capitalizing on this growing social trend.
Monitoring Matters
Monitoring your content is a lot like keeping score in sports. If you are playing for fun with your friends, the score may not matter. But if there is money on the line, every run counts. With metrics for monitoring visitors, leads and customers, your business can track its return on investment.
As social media use has reached at an all-time high, now is the right time to reevaluate your social media strategy.