in sports marketingUnlike other industries, sports has the power to touch audiences and leave them with memories that last a lifetime. Therefore, it shouldn't come as a surprise that some teams and brands have capitalized on memorable moments and players in order to expand their reach. That's why we decided to compile a list of our favorite moments in the history of sports marketing.
The Top Moments in the History of Sports Marketing
Nike Signs Michael Jordan
In 1984, shortly leaving the University of North Carolina, Michael Jordan, the world's best basketball player, was searching for a shoe deal. However, at the time, his heart was set on Adidas—that is until Nike made their proposal.
That year, Michael Jordan signed a sponsorship with Nike worth a whopping $500,000, and the rest became history. Although it might not seem as much compared to today's deals, it was an unheard of sum in 1984.
Afterwards, Michael Jordan would go on to become the face of the sport, propelling Nike to market dominance. In fact, according to SportsOneSource, Nike's Jordan brand still controls 58 percent of the basketball shoe market. So, I guess you can say Nike made the right decision in the long run.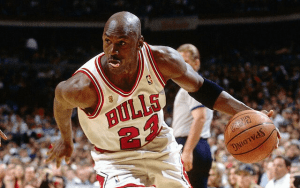 Jägermeister Comes to German Soccer
In sports marketing, it's unheard of to watch a game without seeing some sort of alcohol commercial or promotion. But, have you ever wondered where this trend started? If so, look no further than German soccer.
Although Uruguay's Penarol was the first team to ink a shirt sponsor, Eintracht Braunschweig was the first in Europe. In 1973, the Bavarian team was the first European soccer team to take the pitch with a shirt advertisement. And it was sponsored by none other than Jägermeister.
Although jersey sponsors have come a long way, the Eintracht Braunschweig and Jägermeister alliance is what made them big in sports marketing.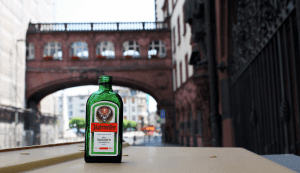 Gehrig Becomes Wheaties
These days, it's more than common for star athletes to grace a Wheaties box. However, over 100 years ago, not so much. That is until Yankee great Lou Gehrig came into the picture.
In 1934, General Mills made the star slugger the first athlete to be put on a cereal box. Although they started out on the back of the box, the athletes were eventually moved to the front. And now you can't go down a cereal aisle without athletes like LeBron James or Serena Williams staring you down.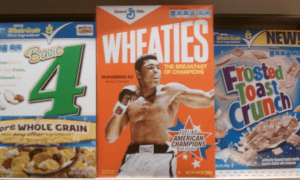 George Foreman's Grills: The Apex of Sports Marketing
At first, heavyweight boxer George Foreman wasn't keen to put his name on Salton's Mean Lean Fat-Reducing Grilling Machine. However, he was eventually convinced, and the George Foreman Grill came into fruition.
When all was said and done and the royalty checks kept flowing in, Foreman would eventually make more as a pitchman than from boxing.
Sports marketing is a lot more prevalent than many people notice. However, these few moments are head and shoulders above the rest.