Strategizing is vital in all walks of life, from football to business. Would the underdog New York Giants have dethroned the 18-0 New England Patriots in Super Bowl XLII without a strategy (and, admittedly, a stroke of luck)? Probably not. Had Giants' head coach Tom Coughlin not made it a point to put pressure on Tom Brady, arguably the greatest quarterback of all time, the Giants' defense would have been shredded. If your company is in need of a makeover, take a page from Coach Coughlin's playbook and implement a solid rebranding strategy.
What Makes a Rock-Solid Rebranding Strategy?

Companies will rebrand for different reasons. Sometimes, a company willingly chooses to rebrand in order to reach a broader audience. Other times, companies will be forced to rebrand due to legal issues or slow business. Regardless of the reason, there are a few branding essentials that should be incorporated into every rebranding strategy.
Create a Catchy Company Name
No matter what business you're in, you'll want a catchy brand name that is simple enough for people to remember. If your brand has a unique personality, let it shine in your name. For example, when the Fat Guy team is not occupied with inbound marketing duties, you can probably find us indulging in delicious food, hence our name.
Leverage Yourself with a New Logo
Your logo is the visual cornerstone of your brand. A successful logo will be simple, consistent with your desired brand image, memorable, versatile and unique. Apple's logo serves as a great model. It's simple, reflects the brand's name, is easily recognizable, can be translated across digital and physical mediums and is certainly unique.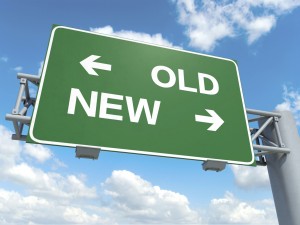 Win with Website Redesign
Great web design is necessary for any business to succeed. Website redesign could be the perfect solution to a slow business, or the key to making a good business even better. An outdated website can be unattractive to both potential customers and search engines alike. If your website is difficult to navigate and not aesthetically pleasing, people will be turned off by it. Obsolete design could also have a negative effect on SEO, burying your struggling business even further into the depths of the SERPs.
Round Up the Troops
The people surrounding your company should not be neglected when you devise your rebranding strategy. Make sure your employees and existing customers are as excited as you are for the big change ahead. If they're enthusiastic about the rebranding, they'll serve as ambassadors for your brand. Making and distributing promotional products such as clothing, pens, mugs and other items featuring your brand's new name and logo serves as a cost-effective way to both market your company and give a little something back to those who make it a possibility.
Show Off with Social Media
Social promotion is something that companies sometimes fail to include in their rebranding strategy. Set an official launch date for your new website and reveal your new logo when it's designed. Social media is the perfect method to announce your big changes to a lot of people. Email and local newspapers also serve as great platforms by which you can promote your rebrand.
Rebranding your company is no small task. Hiring a branding professional can make your life exponentially easier as you go through this stressful stage in the life of your business. If you're ready to rebrand, or simply have any questions about creating a rebranding strategy, feel free to contact the Fat Guy Media team at sales@fatguymedia.com or at 516-535-5353.




//