What is Snapchat?
To recap our previous blog, Snapchat is a real-time app that allows you to send photos, text and video messages to friends. You can either send "snaps" or "my story" to friends and followers. "Snaps" are photos that will disappear 10 seconds after viewing, while "my story" includes photos and videos that can be seen for 24 hours before disappearing. The latest Snapchat update has already increased user engagement, which shows a positive outlook for the future success of the well-known app.
Snapchat Update
Snapchat has just launched its latest feature called "Snapcodes", which is essentially a "follow" button. Each user gets a unique Snapchat-branded QR code, which can be customized and downloaded. The difference between a QR code and a Snapcode is that a QR code can connect someone to anything from a website to an app download (which can become confusing), whereas a Snapcode is used for one purpose: to instantly connect users to each other.
What Snapchats Update Does
This new feature has become a great marketing tool for companies since they can customize their Snapcode with a logo or tagline. Each unique Snapcode makes it easy for users to identify a company, which they can instantly follow and share with other users. Snapchat has been able to spread from the digital world to the physical world by allowing users to download a high-res file of their Snapcode, which can then be printed on promotional items such as T-shirts, posters and other merchandise.
How to Customize Your Snapcode (QR Code)
Where to find the Snapchat QR Code
A Snapcode can be opened by pressing the yellow ghost icon atop the camera. Click here to log in to your account and download your QR code. To follow another user automatically, focus the Snapchat app's camera on someone else's Snapcode. Try it out by following Fat Guy Media!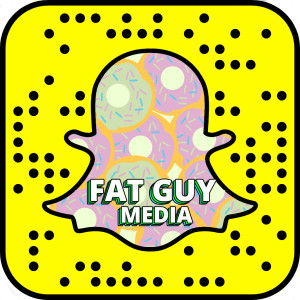 How to Customize your Snapchat QR Code
The ZIP file will contain an SVG and PNG version of your Snapcode and a guide on how to modify and make customizations to the code and how to print it. The vector file will contain three shapes: ghost, code and frame. You can add graphics or text anywhere INSIDE the white ghost. The code (yellow) and frame (black) shapes cannot be modified, as it will make the Snapcode unscannable.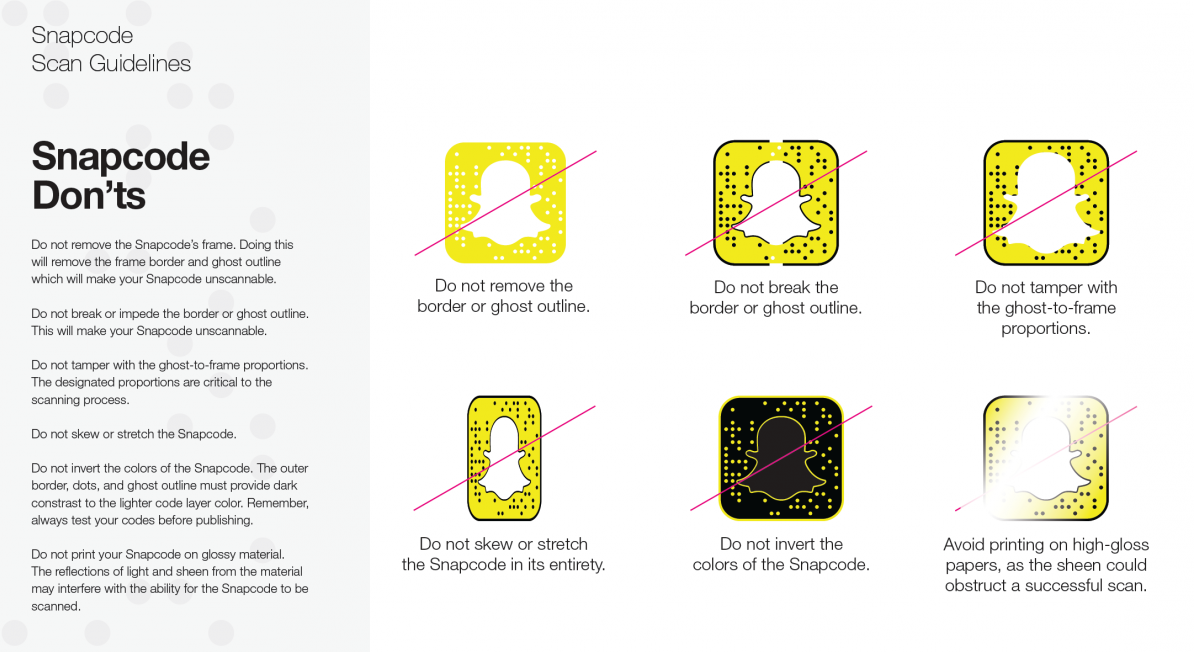 Snapchat Marketing for Companies
Unlike other social media platforms, Snapchat allows users to view content for a limited amount of time before it disappears. At first, this short-term visual messaging may not seem like a beneficial marketing tactic, however, it actually generates anticipation and excitement. By giving users an exclusive glimpse into your company whether it's an upcoming product launch, coupon promotions, contests or an event invitation, the audience will want to learn more. In order to successfully utilize this marketing approach, companies need to think out of the box and develop creative and unique ways to capture the attention of its viewers and earn their trust. Many celebrities are jumping at this opportunity and taking full advantage of the latest Snapchat update. For example, DJ Steve Aoki will be one of the first celebrities to use Snapcode on large screens at his concerts and printed on T-shirts so that his fans will instantly follow him.