As hard as companies try to promote themselves, sometimes they err and fall extremely short, to say the least. Occasionally, brands will even create such a mess that they make national headlines because of it. In fact, here are three of the most notable marketing fails that we've ever seen. Use them as an example of what not to do!
The Top Marketing Fails of All-Time
Kendall Jenner's Pepsi Fiasco
If a commercial is eviscerated on social media, parodied on Saturday Night Live and eventually pulled entirely, chances are it's a marketing fail. Such was the case for the highly-controversial Pepsi commercial featuring Kendall Jenner.
In the advertisement, the reality star plays peacemaker at a Black Lives Matter protest by handing a can of Pepsi to a police officer. Although the global soda brand was trying to position itself as a culturally unifying force, their message fell completely flat.
Generally, brands should not use social issues like police brutality or racism to sell their products or services. Most of the time, it will simply come across as a careless attempt to minimize victims' experiences.
https://youtu.be/dA5Yq1DLSmQ
EA's Brass Knuckles Blunder
As a way to promote the highly-anticipated release of Godfather II, EA, one of the world's largest video game companies, sent out a pair of golden brass knuckles. The only problem is that brass knuckles are illegal in many states, including where EA is based in California.
To minimize liability and ensure they were "properly disposed of," EA requested all brass knuckles be sent back. All in all, it turned into a major inconvenience for the company, as well as the brass knuckle recipients.
It's no secret that branded items are a great way to promote a product or service. You just need to make sure that the item isn't highly illegal first. Otherwise, you'll end up doing a lot more harm to your brand than good.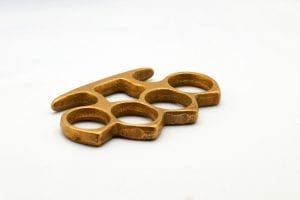 DiGiorno's #Disaster
In recent years, DiGiorno Pizza made a name for itself with wit and a high level of audience engagement. However, that all changed with one disastrous tweet. In the wake of Ray Rice's domestic violence, the hashtag #WhyIStayed began trending for victims to share their stories and experiences with abuse.
Evidently, DiGiorno wasn't aware of the reason behind the hashtag, tweeting "#WhyIStayed You had pizza." The backlash was swift and damning, with the tweet being deleted within minutes. Eventually, the pizza brand tweeted again, "A million apologies. Did not read what the hashtag was about before posting."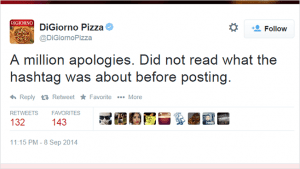 The lesson behind this marketing fail is to always check a trending topic or conversation before jumping in. When you don't, people might see your brand as lazy, inconsiderate and, worst of all, insensitive.
Every company makes mistakes, but these brand marketing fails show how bad it can truly be!