If your business uses social media to generate leads, you know how hard it can be to get the results you desire. Sometimes, it may seem impossible to build a large audience that likes and shares your content.
If this scenario sounds familiar, it's likely you are committing these five sins.
1)     Your Content Doesn't Offer Value
With businesses everywhere vying for attention, you can't expect to build your brand by posting any old content.
Although it takes time to produce memorable posts, the benefit to your brand is always worth the effort.
Use images as often as possible
Incorporate videos and graphics
Piggyback on news and trends
Focus less on self-promotion
2)     You are not Consistent
If your goal is to grow your social audience, you might need to fine tune how your approaching managing a business account.
A common social media marketing mistake is posting infrequently or inconsistently. This is an easy way to decrease your amount of followers and your level of interaction.
While it may be tough to post every day or even several times a day, scheduling your posts in advance can save time.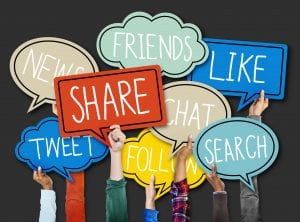 3)     You are not Posting at the Right Times
You strategy may also not be working because you are not posting during prime social media time. By knowing the proper time to post, you will have a better chance of gaining the attention of your target audience.
Since each platform has different demographics and user patterns, adapt your posting schedule to fit these peak times.
Facebook
Wednesdays: 3 – 4 p.m.
Thursdays and Fridays: 1 – 4 p.m.
Saturdays and Sundays: 12 – 1 p.m.
Twitter
Monday through Friday: 12 – 3 p.m.
Wednesdays: 5 – 6 p.m.
Instagram
Monday through Thursday: anytime except 3 – 4 p.m.
LinkedIn
Tuesdays, Wednesdays and Thursdays: 7:30 – 8:30 a.m., 12 p.m. and 5 – 6 p.m.
Tuesdays: 10 – 11 a.m.
4)     You are not Building Relationships
Another reason you may be failing is that you are merely posting content. To truly build an audience, your business needs to build relationships to lead potential customers through the buyer's journey.
Businesses with large followings on social media are aggressive about following other accounts. They follow back, send messages or share others content to develop online rapport.
5)     You're only using one Social Media Network
Today, there is no one right network for everyone. The buyer personas of your business will dictate which social platform has the potential to yield the right results.
As different users flock to new (Snapchat) and old (Facebook) players, it's best to diversify your strategy. For example, a sports team might do best posting different content across several visual social networks.
Finally, be patient. It takes time to build the right type of authentic following that delivers growth, not only in interaction level but customers, too.