With summer (unfortunately) winding down soon, kids and young adults across America are beginning to make their way back to school for the next year. And that means they have their fair share of new school supplies, clothing and other items to buy. With this shopping rush, many brands are taking advantage with ad campaigns targeted at these audiences. With that in mind, check out some of our favorite back to school ad campaigns in recent memory.
The Top Back to School Ad Campaigns and Ads
Staples
Staples, a hallmark back to school shopping destination, is no stranger to the end of summer rush. Pretty much any school, desk or stationery supply you might need can be found there. That's why it probably doesn't come as a surprise that they're a yearly fixture in the back to school ad campaigns market.
Staples for Students
For instance, their recent Staples for Students campaign started by offering incentives for shopping for school supplies in their store. Essentially, anyone who spends $25 is entered in a $50,000 scholarship sweepstakes, or one of four $25,000 scholarships. And if you know college students, that's music to their (usually broke) ears.
Staples also paired up with DonorsChoose.org to support classrooms and teachers. Staples pledged to match any customer's donation to teachers and classrooms. This campaign succeeded in part to monetary incentives, but also because it shined a light on the steadfast efforts of teachers who may sometimes struggle to afford the necessary classroom supplies.
Crayola
Piggybacking off the last back to school campaign, global crafts brand Crayola also wanted to provide teachers with some much-needed support.
Their ads focused on the slogan #ThankATeacher. It asked students to create a colorful note thanking their favorite educator. They would then be entered in a competition to win a prize for themselves, their teacher and their corresponding classroom.
By embracing a good cause instead of outwardly selling itself, Crayola aligned itself with a noble mission that made customers actually feel good about buying from them.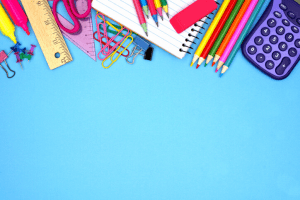 American Eagle
When it comes to back to school ad campaigns, sometimes all you need is a solid brand spokesperson. In the case of American Eagle's recent campaign, that was singer and rapper Lil Wayne. The teen fashion retailer used the global pop star to promote their new fall streetwear collaboration with a high school auditorium dance party, accompanied by a performance.
The entire ad plays out like a music video, so it doesn't really feel like you're being sold to. And, since younger millennials and Gen X are the main audience, this is a good thing. These audiences definitely tend to gravitate towards brands that aren't as explicit in their marketing.
Back to school ads like these have been going on forever. If you'd like to promote any products and services in this busy time of year, contact the experts at Fat Guy Media. We have the tools to craft and execute back to school ad campaigns based around YOUR needs!
---