The more things change, the more they stay the same.  With new apps like Snapchat and Periscope, creative marketing options continue to flourish. However, old-school marketing campaign ideas, such as blogs and email marketing, remain the backbone of any successful strategy.
What is a Marketing Campaign?
There are many definitions as to what a marketing campaign is, but they all share certain similarities.
According to Investopedia.com, "A marketing campaign is a coordinated series of steps that can include promotion of a product through different mediums (television, radio, print, online) using a variety of different types of advertisements. The campaign doesn't have to rely solely on advertising, and can also include demonstrations, word of mouth and other interactive techniques."
Inbound marketing campaigns, as defined by HubSpot, are "concentrated efforts that align all of your marketing channels around a single message or goal."
Whether your focus is digital marketing, content marketing or some other similar discipline, tried-and-true marketing campaign ideas form the foundation of any business' promotional efforts.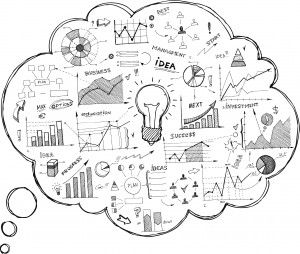 7 Proven Marketing Campaign Ideas
With more than a billion websites and counting, the Internet is a crowded place. In order to gain customers, your business must first attract them with compelling content. Today, marketing campaign ideas include a variety of effective content types to convert visitors into customers.
Blogs
Now more than 20 years old, blogging is a stalwart of content marketing. Blogging, which drives traffic to your website, is a central player in most marketing campaigns. Blogging is a cost-effective strategy for distributing your campaign's message that can provide both short- and long-term results.
Email Marketing
If you think social media has replaced email, think again. Email marketing's return on investment still cannot be beat. For every dollar spent, email marketing generates $38 in business. Email marketing continues to be effective, because it can directly reach targeted lists of potential customers easily. By including compelling content and special offers, your marketing campaign will be more likely to make conversions.
Video
Video is the future cornerstone of marketing campaigns. By 2019, video will be 80 percent of all consumer Internet traffic, according to Cisco. Why not start with video marketing now?
Podcasts
Since anyone with a laptop and a microphone can broadcast their message on the Internet, podcasts are popping up everywhere creating a golden age for the medium. If you are looking for marketing campaign ideas, capitalize on this viable alternative to blogging.
Social Media
With everyone's eyes on Facebook, Twitter and LinkedIn all day long, a marketing campaign can't thrive without social media support. It's unlikely that potential customers are scanning your website all day long for new updates, but there is a better chance they will see your updates on their social media feeds.
By maintaining social media pages on the top platforms, it will be much easier to keep your target audience informed about your business. Your marketing campaign ideas can then reach a wider audience with a boost of social media advertising.
Calls-to-Action
A strategically placed call-to-action is crucial to marketing success. This image or line of text that prompts visitors, leads and customers to take an action is an important step in the conversion process. The offer included could be anything from an ebook to a coupon. Calls-to-action, which are frequently included on social media posts and blogs, move your prospect beyond mere awareness of your business.
Landing Pages and Thank You Pages
By gaining customer data, landing pages and thank you pages are a central part of marketing's lead generation process. Their important role is to guide prospects further through the buyer's journey from awareness through consideration towards a decision.
As you plan your next marketing campaign, incorporate some or all of these marketing campaign ideas to ensure your success!